Providing homeowners with the highest quality roofing services in the greater Cumming area. From roof repairs & replacements to storm damage emergency services, our roofing experts are ready to answer your call. Reach out today for a free estimate!
LICENSED & INSURED ROOFERS IN CUMMING
Due to our unwavering commitment to quality and customer satisfaction, it's no wonder Georgia Roof stands out as the best licensed and insured roofing company in Cumming, GA . With our deep knowledge and extensive experience, we're equipped to handle any roofing job, no matter how complex. Our company prides itself on its transparency, providing accurate and detailed quotes, ensuring no surprise costs for customers. Our use of high-grade, durable materials ensures longevity of our projects, thereby saving customers from frequent repair costs. As an insured contractor, Georgia Roof guarantees peace of mind for homeowners, knowing they are protected from any liabilities during the course of our work.
Ester Sydnee
June 18, 2023
Great company, even better individuals. I don't often write reviews but when you get exceptional service on a significant home roof repair I think the company deserves it. After the hail storm in this year, within a day, our neighborhood had roofing contractors crawling all over the place pushing the hard sale providing false and sometimes illegal promises. Frustrated by the whole process I finally had a friend who recommended Georgia Roof LLC. It turned out he and his crew were already in the area voluntarily boarding up broken windows for a retirement community before a cold front moved in Immediately when talking to them I could tell they were honest, transparent, and most importantly did not push the hard sell. That feeling continued throughout the entire process as he was always thorough, responsive, and made it simple. Not to mention they did a fantastic job on the repairs including roof and gutters.
We had such a great experience the first time around with Georgia Roof LLC to complete a metal roof on our deck and love it! Great work ethic, trustworthy, quality work, and the most friendly team around.
Gina Masier
June 17, 2023
After considering five re-roof bids, we selected Georgia Roof LLC. They provided our family with superior quality service, professionalism, and timeline along with a 100% satisfaction guarantee. We are completely and fully satisfied and would highly recommend their services.
Calanthe Miller
June 16, 2023
The price was fair and the workers showed up on time and were very professional. They clean up any mess and, best of all, the roof leak is fixed!
Craig Blanchard
June 15, 2023
They made the entire process very easy and always responded promptly to any questions we had. We couldn't be happier with our roof and highly recommend them!
David Thomas
June 15, 2023
This was one of the best experiences I have ever had with a service and repair company. They completely replaced my roof and it was seamless from start to finish. Their team was professional and the installation was flawless. Jason and George are outstanding at what they do. I highly recommend Georgia Roof LLC. They are the best around!
Phyllis Robideau
June 15, 2023
Honest, courteous, efficient, reliable service is what was provided by Josh Reaves owner of Georgia Roof LLC and his staff when they replaced the roof on my house. Good customer service is not a given anymore but is very appreciated. Thank you to Josh and his staff. Also it's nice not to worry when it rains.
Archie Klein
June 14, 2023
A representative from Georgia Roof LLC came right on time as promised to put an estimate and quote for the work. Quite punctual I must say. The crew did excellent work on the roof and even showed me before and after pictures of the work. Impressive!
Amin Maarif
June 13, 2023
Quality work, expertise, excellent customer service, and friendly local team! Our roof was damaged from a hail & windstorm and Georgia Roofing was among one of the many companies I called in a frenzy to try and get someone to look at it. I spoke with their main contractor who was so kind - our few conversations felt like I was just catching up with a friend. A few days later the roofers were the first on the job, super nice and professional, and reported back with photos and quotes that were well outside our price range. GR LLC worked with me and my budget to find a less expensive custom roof shingle from another supplier and continued to provide me updates during the delays in shipment (which was expected due to the alternate supplier being much further away). I didn't worry about the delay too much because they sent a crew over to temporarily fix/seal the roof to keep rain out in the interim. When the shingles arrived, the crew got right to it and the entire job was complete while I was at work. They returned to my home a few days later to pick up the payment and answer any questions we had. Highly recommend, thank you Georgia Roofing company!
The installation crew was very professional and meticulous with both the roof replacement and the clean up. Matt and George were both great to work with. Best price and quickest turn around time. I would highly recommend
Professional Affiliations & Awards
Roofing Services by Georgia Roof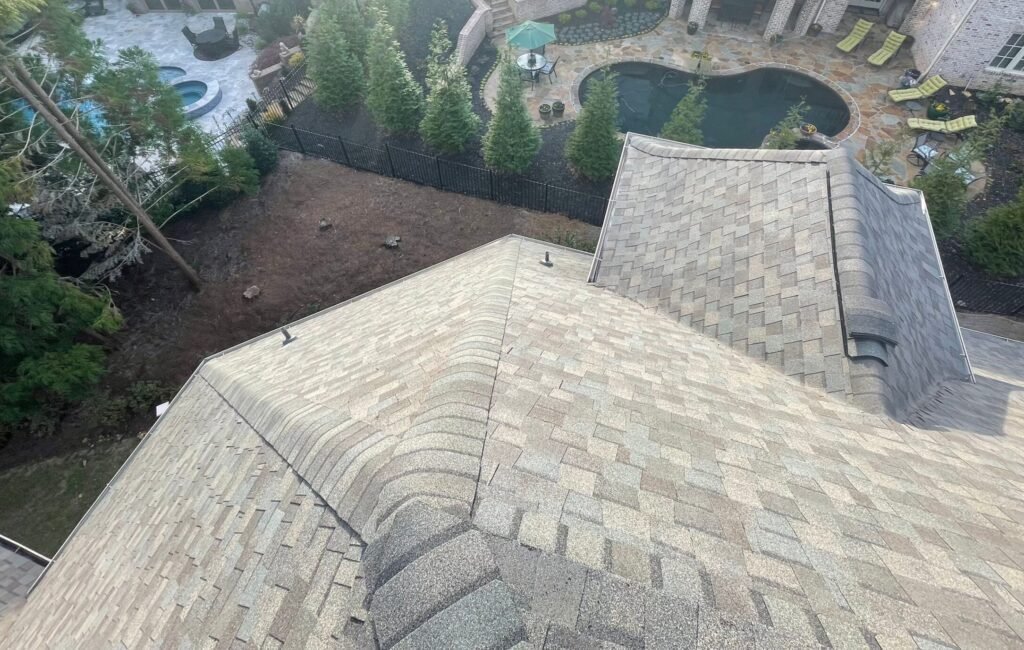 Why Work with georgia roof in Cumming?
Our dedication to top-tier service and unmatched quality in roofing projects ensures your home is in the best hands. With us, your home isn't just another project; it's a commitment to excellence that we honor through our workmanship. We leverage our deep industry knowledge to tackle even the most challenging roofing issues, offering you a solution that's tailored to your specific needs.
Reasons to select Georgia Roof as your roofing partner:
Expertise: Our years of experience in the roofing industry equip us to handle a wide range of roofing tasks with high proficiency.

Quality Materials: We utilize only the highest quality materials in our projects, ensuring the durability and longevity of your roof.

Full Transparency: We maintain full transparency throughout the project, providing detailed estimates and regular updates, so you're never left wondering about the progress or cost.

Insured and Licensed: Our fully insured and licensed status ensures you are safeguarded against any liabilities during the project, giving you peace of mind.

Customer-Centric Approach: We place the utmost importance on customer satisfaction, striving to exceed expectations in every project and provide personalized service tailored to each homeowner's needs.
Your Cumming
Roofing Contractors
Nestled in Forsyth County, Cumming, Georgia, is a charming city that captures the essence of small-town living while embracing the opportunities and conveniences of a growing community. With its picturesque landscapes, strong sense of community, excellent education system, and diverse array of recreational activities, Cumming offers residents and visitors a unique and enriching experience. In this article, we will explore Cumming's demographics, education system, and the wealth of tourism opportunities that make it a captivating destination in the heart of Georgia.
Demographics
With a population of approximately 7,000 residents, Cumming exudes a close-knit and welcoming atmosphere. The city's demographics reflect a mix of ages, backgrounds, and cultures, creating a diverse and vibrant community. Cumming's residents are known for their strong community spirit and active involvement in local events and initiatives. The sense of camaraderie and neighborly support fosters a warm and inclusive environment where newcomers are quickly embraced and connections are forged. Cumming's demographics highlight the city's commitment to creating a tight-knit and thriving community for all who call it home.
Education
Cumming takes great pride in its exceptional education system, providing students with a strong foundation for success. Forsyth County Schools, known for their commitment to academic excellence, offer a comprehensive curriculum and a supportive learning environment. With top-rated schools that consistently exceed state and national standards, students in Cumming have access to quality education from kindergarten through high school. The district's commitment to innovation and personalized learning ensures that students are well-prepared for the challenges of higher education and the workforce. Additionally, Cumming is home to esteemed private schools that offer alternative educational options, further enhancing the city's commitment to educational excellence.
Tourism
Cumming's natural beauty and wealth of recreational opportunities make it an appealing destination for tourists seeking outdoor adventures and cultural experiences. Lake Lanier, a sprawling reservoir located just a short drive from the city, offers a host of activities such as boating, fishing, swimming, and lakeside picnicking. The serene beauty of the lake and its surrounding parks provide a peaceful retreat for nature lovers and outdoor enthusiasts. Visitors can also explore the vibrant Cumming Playhouse, a local theater that hosts a variety of performances and events, showcasing the city's artistic talent and cultural diversity.
For those seeking a taste of history, the Cumming Fairgrounds hosts the annual Cumming Country Fair & Festival, a beloved community event that celebrates the city's agricultural heritage and offers thrilling rides, live entertainment, and delicious fair food. The fairgrounds also serve as a venue for concerts, trade shows, and other community gatherings throughout the year.
Cumming's bustling downtown district is a charming hub of activity, featuring an array of specialty shops, boutiques, and locally-owned restaurants. Visitors can stroll along the picturesque streets, browse unique shops, and savor the flavors of the local cuisine. The Cumming City Market, held weekly, showcases the region's freshest produce, artisanal goods, and local crafts, offering visitors a taste of the vibrant local community.
Cumming, Georgia, is a city that beautifully combines natural beauty, community spirit, educational excellence, and a rich cultural heritage. With its welcoming atmosphere, outstanding education system, and abundance of recreational activities, Cumming provides residents and visitors with an unparalleled quality of life. Whether exploring the picturesque landscapes, immersing oneself in the local history and culture, or enjoying the vibrant downtown scene, Cumming offers a remarkable experience for all. Come and discover the allure of Cumming, Georgia, where community, growth, and natural beauty converge to create a truly unforgettable destination.
Ready for us to take a look at your roof in Cumming? Give us a call today!