Leading Roofers
In Peachtree City, GA
Discover unmatched roofing excellence with Georgia Roof, the best roofers in Peachtree City, Georgia. Our expert team ensures your roof is a blend of durability and elegance. Elevate your home with our superior craftsmanship and reliable service. Choose Georgia Roof for a lasting impression. Contact us now for your roofing needs!
Certified and Insured Roofers in Peachtree City, GA
Elevate your Peachtree City home with Georgia Roof, your certified and insured experts in roofing. Our roofers in Peachtree City, GA, are renowned for their unparalleled craftsmanship and dedication to quality. We ensure that every project is executed precisely, using only the finest materials for durability and style. Our comprehensive insurance offers peace of mind, guaranteeing a worry-free experience. 
Tailored to your specific needs, our solutions are designed to enhance your home's functionality and aesthetic. Trust Georgia Roof for a seamless, professional roofing experience that stands the test of time. Contact us today and take the first step towards a beautiful, resilient roof.
Ester Sydnee
June 18, 2023
Great company, even better individuals. I don't often write reviews but when you get exceptional service on a significant home roof repair I think the company deserves it. After the hail storm in this year, within a day, our neighborhood had roofing contractors crawling all over the place pushing the hard sale providing false and sometimes illegal promises. Frustrated by the whole process I finally had a friend who recommended Georgia Roof LLC. It turned out he and his crew were already in the area voluntarily boarding up broken windows for a retirement community before a cold front moved in Immediately when talking to them I could tell they were honest, transparent, and most importantly did not push the hard sell. That feeling continued throughout the entire process as he was always thorough, responsive, and made it simple. Not to mention they did a fantastic job on the repairs including roof and gutters.
We had such a great experience the first time around with Georgia Roof LLC to complete a metal roof on our deck and love it! Great work ethic, trustworthy, quality work, and the most friendly team around.
Gina Masier
June 17, 2023
After considering five re-roof bids, we selected Georgia Roof LLC. They provided our family with superior quality service, professionalism, and timeline along with a 100% satisfaction guarantee. We are completely and fully satisfied and would highly recommend their services.
Calanthe Miller
June 16, 2023
The price was fair and the workers showed up on time and were very professional. They clean up any mess and, best of all, the roof leak is fixed!
Craig Blanchard
June 15, 2023
They made the entire process very easy and always responded promptly to any questions we had. We couldn't be happier with our roof and highly recommend them!
David Thomas
June 15, 2023
This was one of the best experiences I have ever had with a service and repair company. They completely replaced my roof and it was seamless from start to finish. Their team was professional and the installation was flawless. Jason and George are outstanding at what they do. I highly recommend Georgia Roof LLC. They are the best around!
Phyllis Robideau
June 15, 2023
Honest, courteous, efficient, reliable service is what was provided by Josh Reaves owner of Georgia Roof LLC and his staff when they replaced the roof on my house. Good customer service is not a given anymore but is very appreciated. Thank you to Josh and his staff. Also it's nice not to worry when it rains.
Archie Klein
June 14, 2023
A representative from Georgia Roof LLC came right on time as promised to put an estimate and quote for the work. Quite punctual I must say. The crew did excellent work on the roof and even showed me before and after pictures of the work. Impressive!
Amin Maarif
June 13, 2023
Quality work, expertise, excellent customer service, and friendly local team! Our roof was damaged from a hail & windstorm and Georgia Roofing was among one of the many companies I called in a frenzy to try and get someone to look at it. I spoke with their main contractor who was so kind - our few conversations felt like I was just catching up with a friend. A few days later the roofers were the first on the job, super nice and professional, and reported back with photos and quotes that were well outside our price range. GR LLC worked with me and my budget to find a less expensive custom roof shingle from another supplier and continued to provide me updates during the delays in shipment (which was expected due to the alternate supplier being much further away). I didn't worry about the delay too much because they sent a crew over to temporarily fix/seal the roof to keep rain out in the interim. When the shingles arrived, the crew got right to it and the entire job was complete while I was at work. They returned to my home a few days later to pick up the payment and answer any questions we had. Highly recommend, thank you Georgia Roofing company!
The installation crew was very professional and meticulous with both the roof replacement and the clean up. Matt and George were both great to work with. Best price and quickest turn around time. I would highly recommend
Professional Affiliations & Awards
Roofing Services by Georgia Roof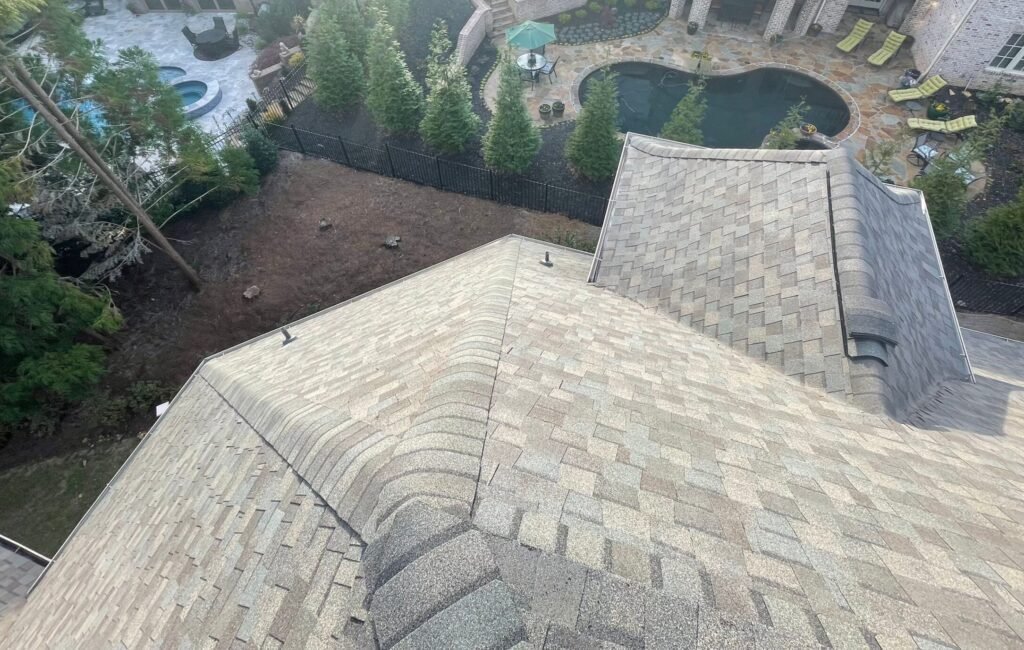 Why Work with Georgia Roof in Peachtree City
In the heart of Peachtree City, GA, your home deserves the finest roofing service available. Georgia Roof stands out as the ideal choice, offering unparalleled roofing expertise and commitment to customer satisfaction. Our team of skilled roofers in Peachtree City, GA, is dedicated to providing exceptional service and quality. Here are six compelling reasons to choose Georgia Roof:
Professional Certification

: Our professionally certified team ensures your roofing project is handled with expert knowledge and skill.

Comprehensive Insurance Coverage

: With Georgia Roof, enjoy comprehensive insurance coverage that provides peace of mind and protects your investment.

Customized Roofing Solutions

: We understand that every home is unique. Our tailored solutions cater to your individual needs, ensuring your roof is functional and complements your home's aesthetic.

Local Expertise

: Our deep understanding of Peachtree City's climate and architectural styles enables us to offer practical and visually appealing roofing solutions.

High-Quality Materials

: We use only top-quality materials in roofing projects, ensuring longevity and durability.

Outstanding Customer Service

: Our commitment to customer satisfaction extends beyond the completion of the project. We're dedicated to providing ongoing support and advice.
Choosing Georgia Roof means investing in quality, reliability, and customer care. Contact us today to experience the best roofing service in Peachtree City, GA.
Your Peachtree City
Roofing Contractors
Ready for us to take a look at your roof in Peachtree City? Give us a call today!